New Jeep 2019 Jeep Cherokee vs 2019 Ford Escape – Longmont Area for Sale in Boulder,CO l Denver Area
2019 Jeep Cherokee vs 2019 Ford Escape – Longmont Area
View Inventory


Vehicle Overview
The 2019 Jeep Cherokee is a symbol of freedom in the Longmont area. Around here, we know that the Jeep brand name means exploration, excitement, and above all, sweet freedom to go where you want to go when you want to go. The 2019 Jeep Cherokee comes in a vibrant array of trims: Latitude, Latitude Plus, Altitude, Upland, Trailhawk, and Limited, an assortment of rock solid compact SUVs that are certain to lead you into many adventures. Like the Cherokee, the 2019 Ford Escape promises adventure as well, in a more controlled environment. You're not going to be able to hit the trails in the Escape, though, not like you can a Cherokee Trailhawk, so let's begin by saying that if it's adventure you're after, it's the Cherokee that's serving Longmont Colorado drivers with the healthiest dose of adventure. Here's why we believe Longmont area shoppers are going to love the 2019 Jeep Cherokee just a little bit more than the 2019 Ford Escape.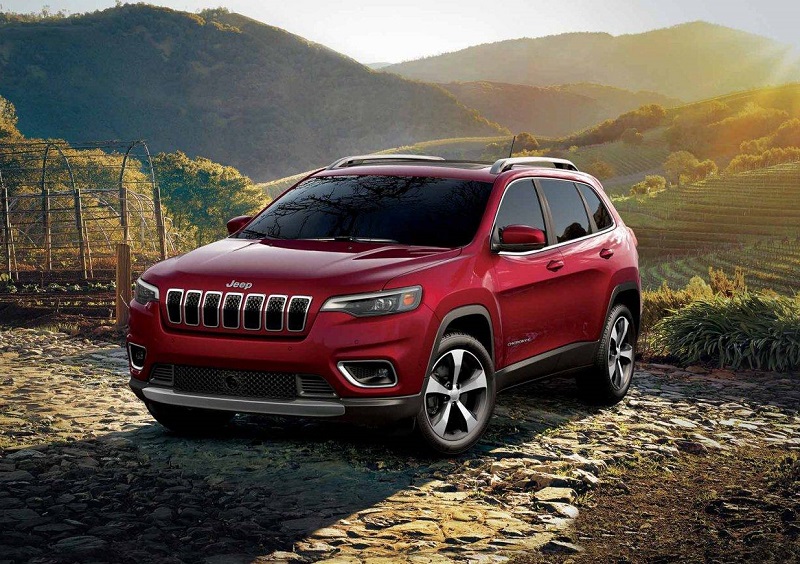 Powertrain – 2019 Jeep Cherokee
A good many shoppers in the Longmont area will prefer to get a base model. It's more economical and leaves you some room to add on optional features without going for everything and the kitchen sink. The standard powertrain for the Cherokee is more impressive: 180 horsepower to only 168 horsepower for the standard base model Escape. If you're planning on shopping for the base model, and you need those extra horses, the Cherokee is going to be your best bet. It's serving Longmont Colorado with a nice amount of horsepower for a base model, and you still get the superior 10-speed transmission to go with it (the Escape only has a 6-speed automatic transmission). The transmission is what keeps the power flowing to your wheels, so for a better handling experience, it's the Cherokee that will win out here.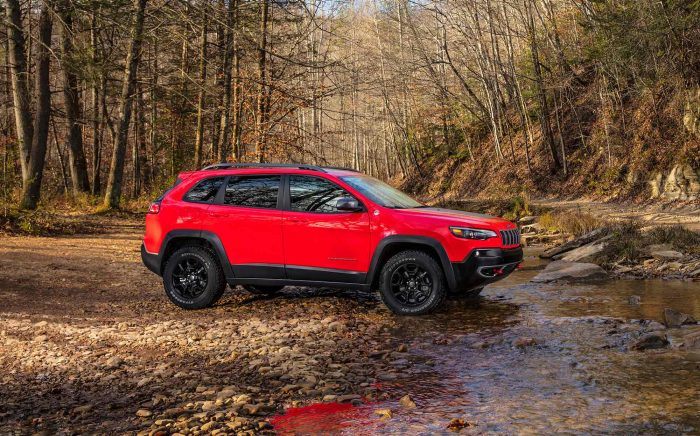 Fuel Economy – 2019 Jeep Cherokee in/near Longmont CO
These are two very adventurous SUVs, and we expect that any customer of either would be looking at a long road ahead, with lots of gas in the tank over the years. If you want the better fuel economy vehicle, the Cherokee is your clear winner, narrowly beating out the Escape 31 to 29 MPG in combined fuel economy (city and highway). Not everyone looks at fuel economy before buying, but if you get a bit better fuel economy on one model over the other, it saves you clear money during your lifetime with that vehicle. For some folks, this is a sure category to look in before buying.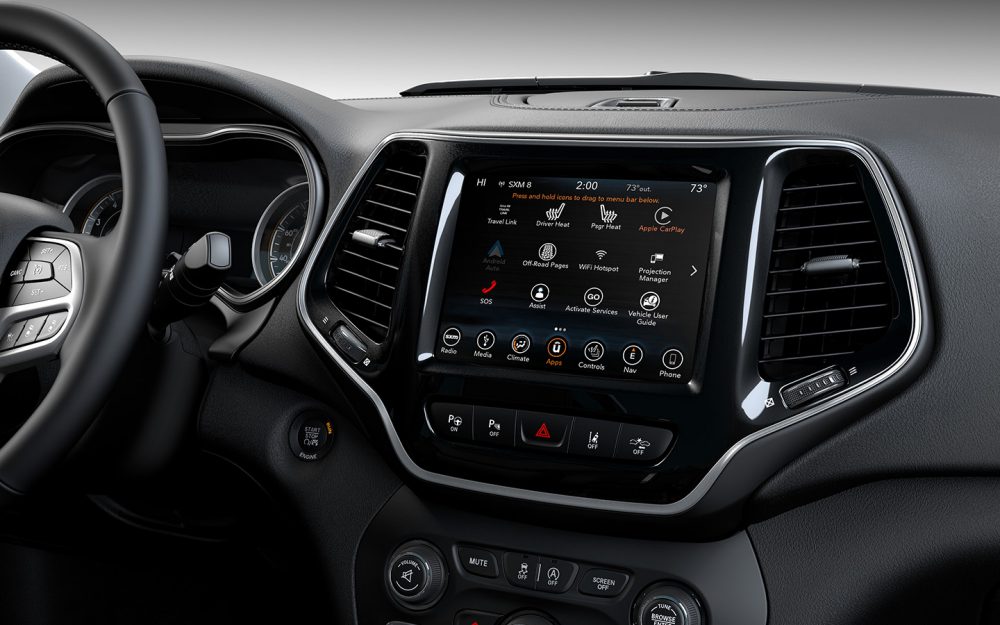 Off-Road Experience – Jeep Cherokee specs in/near Longmont
We wouldn't be doing the Cherokee justice if we didn't mention the Trailhawk, the only trail-rated SUV in the world today. The Escape isn't going to be able to compete with the off-road capacity of the Trailhawk in any way, shape or form, and we're going to give the off-road advantage to this trim right away. Granted, you may not be in for an off-road experience when you buy either of these SUVs, but if you want all the adventure that either has to offer, you've got to mention the Trailhawk as being in a class all by itself. It comes with 4,500 pounds of towing capacity, a unique front fascia that is distinct to its trim, Uconnect® 4C NAV with 8.4-Inch Touchscreen for superior connectivity, and an available CommandView® Dual-Pane Panoramic Sunroof that you won't find anywhere else. It's simply superb in just about every rough and rugged way, while still retaining the ability to look like your everyday commuting SUV as well.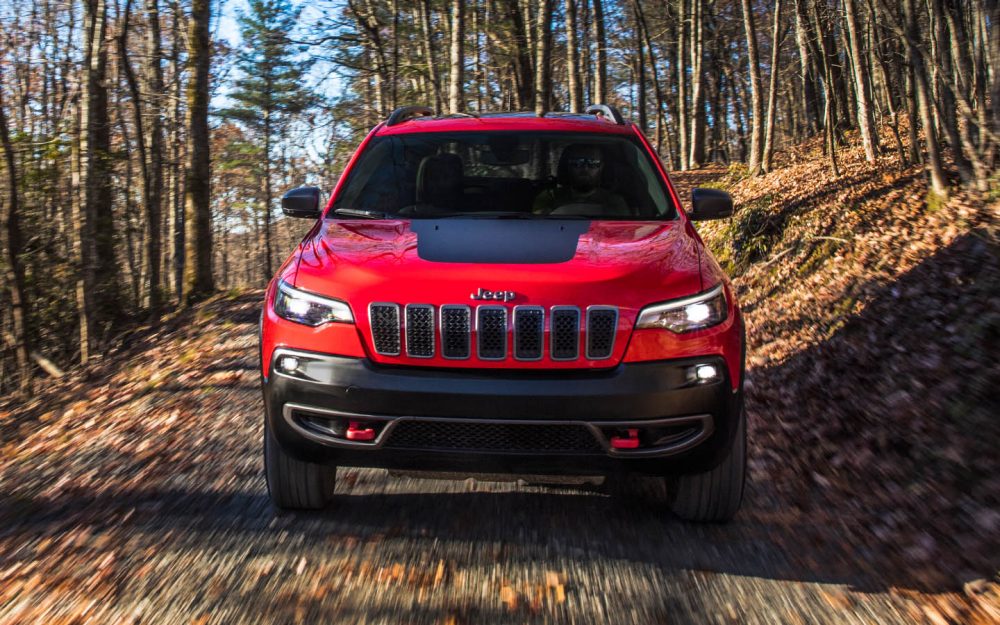 Results – 2019 Jeep Cherokee dealer
Due to better fuel economy, greater horsepower, and the Trailhawk off-roading option, the Cherokee is clearly the winner in this competition. And while the Escape has plenty of great features as well, and certainly can hold its own in rough terrain, there's nothing in the world quite like a Jeep. That's why we sell these vehicles. We know that the Jeep brand carries with it a certain prestige that no other brand can match. Jeep has technology that no other brand on earth has today, and they offer a unique and fun driving experience that other brands just don't offer. So if you want a vehicle that can hit the trails or take the kids to school, just whatever you need to do today, then the Cherokee is going to be your vehicle to buy today. And we're proud to say that we offer tons of great deals right now on the 2019 Cherokee. All that's left for you to do now is sit down and look at all the many trims. Pick out your favorite one! Request a quote from us, write to us with questions, or call us to schedule a test drive.
Thanks to superb horsepower, great fuel economy, and a wealth of trims to choose from, we're emphasizing the greatness of the 2019 Cherokee in this article. Even if you're a Ford fan, we strongly encourage you to get down to our dealership today and test drive the Cherokee first before you head out to buy the Escape. There's something really special about the 2019 class of Jeep Cherokee, and we look forward to sharing with you every little detail of this great SUV. Call today!