New Jeep 2019 Jeep Wrangler vs 2019 Toyota 4Runner – Boulder CO for Sale in Boulder,CO l Denver Area
2019 Jeep Wrangler vs 2019 Toyota 4Runner – Boulder CO
View Inventory


Vehicle Overview
The 2019 Jeep Wrangler is part of the fourth generation of Wrangler (introduced in 2018) which continues to blur the lines between a truck-based SUV that is able to tackle rough roads, and an SUV that offers a smooth and refined ride. The new model features various improvements, both on a mechanical level as well as amenities, and it also comes with advanced safety features. You can learn more about the 2019 Wrangler when you visit our Pollard Jeep dealership in Boulder Colorado. In our comparison, the 2019 Toyota 4Runner, part of the fifth generation of 4Runner, was introduced in 2010. The model is known for its off-road capabilities, combined with enough spaciousness to be a family-friendly option. However, the model continues to be somewhat rough around the edges when it comes to handling rough roads, offering a ride quality that is inferior to the Wrangler.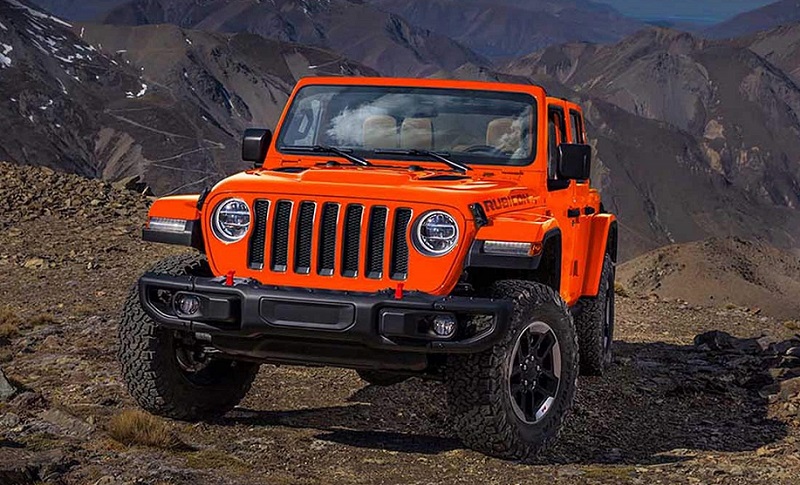 Trim Levels & Performance – 2019 Jeep Wrangler
The Wrangler comes in two body styles–a two-door version and a four-door Unlimited. The option with two doors comes in Sport, Sport S, and Rubicon trim levels, while the four-door version comes in Sport, Sport S, Rubicon, as well as Sahara and Moab trim levels. Both versions can be fitted out with a convertible hardtop or a soft-top. When taking a look under the hood, the Wrangler is powered by a 3.6 liter V6 engine, which produces 285 hp and 260 lb-ft of torque – a standard option for all trim levels. The engine is coupled with a six-speed manual transmission, but an eight-speed automatic transmission is available as an option. There is also a turbocharged 2.0 liter four-cylinder engine available for any trim level, featuring the eTorque system. The engine produces 270 hp and 295 lb-ft of torque, being paired with the eight-speed automatic transmission. The Toyota 4Runner has a total of seven trim levels, but it is a lot more stingy in terms of options when compared with the Wrangler – which has more body style options available. The 2019 Toyota 4Runner comes with SR5, SR5 Premium, TRD Off-Road as well as Premium and Pro versions, Limited and finally Limited Nightshade.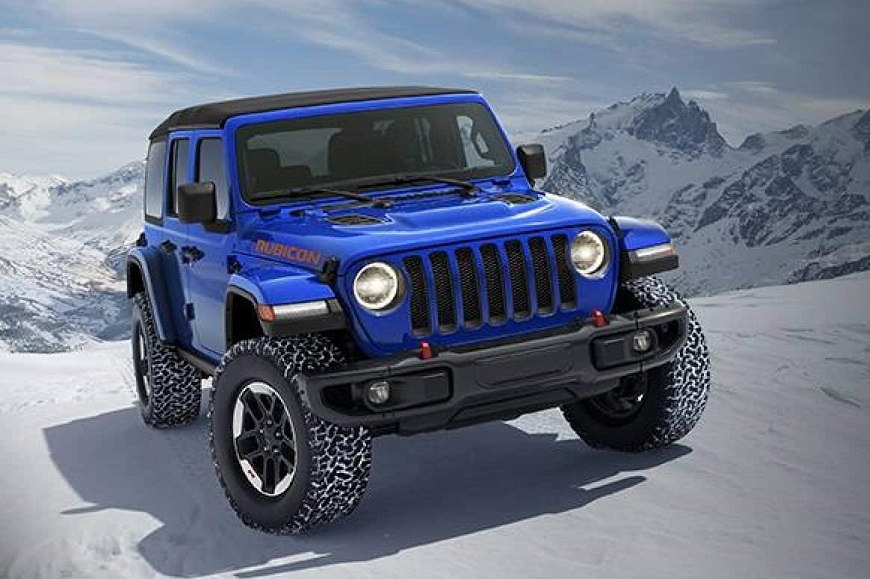 Tackling the Road – 2019 Jeep Wrangler in/near Boulder CO
In terms of acceleration, the 2019 Jeep Wrangler with a 3.6-liter V6 engine is able to accelerate from 0 to 60mph in approximately 7.6 seconds, and from 60mph to a full stop in 128 feet. This SUV will provide a smooth ride on the freeway, but the Wrangler's off-road capabilities is where it really shines. The Wrangler features good underbody clearance and a solid axle suspension, with higher trims having lockable front wheels, as well as rear differentials, and a front stabilizer bar. The 4Runner, while featuring a fairly strong engine and powerful acceleration, is not as fast overall. In terms of braking, coming to a full stop in a smooth fashion might need some getting used to, both in terms of how to properly stop the vehicle but also adapting to the nosedive in case of emergency stops.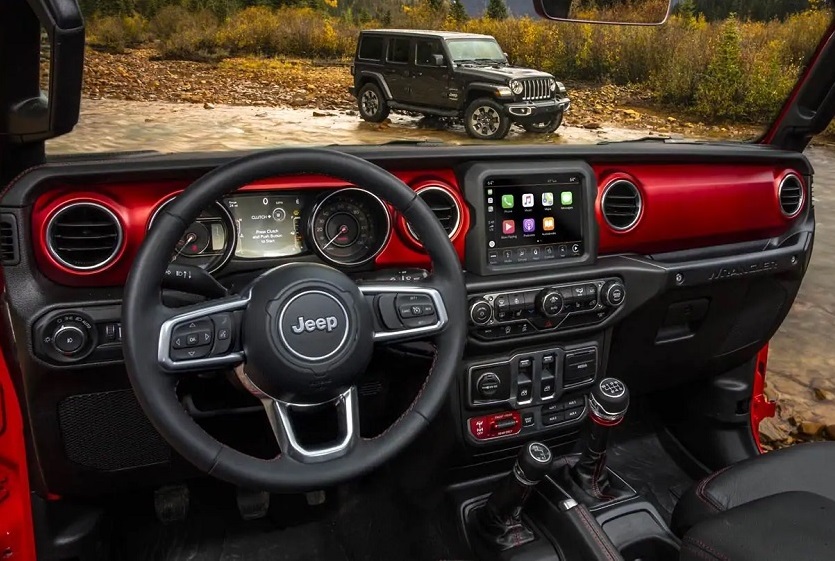 Safety Features – Jeep Wrangler specs in/near Boulder CO
The Wrangler hasn't gone through a crash test yet, but its safety gear has been improved for the 2019 model. The new model comes equipped with blind-spot monitors as well as parking sensors, and this year, optional adaptive cruise control and forward-collision warning features which are part of the Advanced Safety package. In addition, the Wrangler features a rearview camera, which is standard for every trim level, as well as four airbags. In the opposite corner, the 2019 4Runner comes with only traction control modes and airbags. When it comes to comparing safety tech between the Wrangler and the 4Runner, you'll see that blind-spot monitors are missing from the 4Runner, as are forward-collision warnings, adaptive cruise control, and even parking sensors.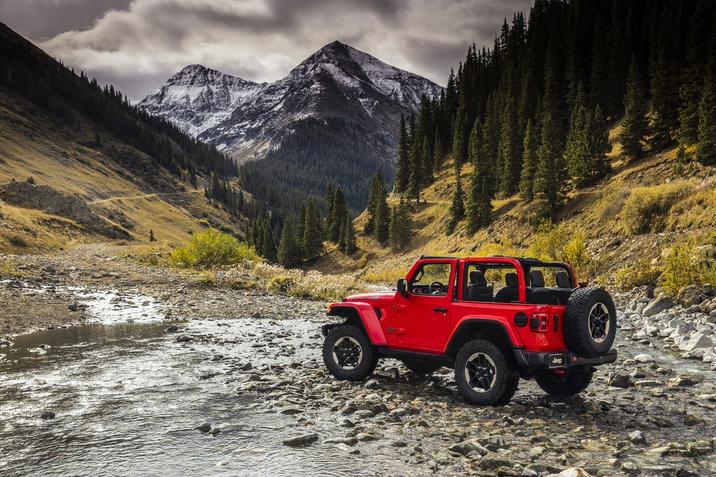 Fuel Economy – 2019 Jeep Wrangler dealer
When it comes to fuel consumption, the 2019 4Runner is more old-school. The rear-wheel drive version of the SUV is rated at 17 mpg city, 21 mpg highway and 18 mpg combined, while the 4-wheel drive is estimated by the EPA at 17/20/18 mpg. On the other hand, the Wrangler's updated powertrain improves its fuel efficiency. The V6 engine powered with the 8-speed automatic transmission has been rated by the EPA at 18 mpg city, 23 mpg highway, and 20 mpg combined. But the good news doesn't stop there–the Wrangler, with a turbo-4 and a mild-hybrid powertrain, takes its mpg score even higher, with EPA rating it at 23/25/24 mpg. The 4-door version of the Wrangler with the V-6 engine and 6-speed manual is rated at 17/23/19 mpg, while the two-door version gets a 17/25/20 mpg score, putting the Wrangler above its competitors in terms of fuel economy.
If you're not yet convinced that the Jeep Wrangler comes out victorious in the 2019 Jeep Wrangler vs 2019 Toyota 4Runner battle, contact us or come down to our Pollard Jeep dealership in Boulder Colorado to take a closer look at this year's model. Our patient, friendly staff will walk you through all the Wrangler's features, and you can take it for a test drive, where we're sure you'll be convinced that it's the SUV of your dreams.