New Jeep 2020 Jeep Gladiator vs 2019 Ford Raptor – Longmont Area for Sale in Boulder,CO l Denver Area
2020 Jeep Gladiator vs 2019 Ford Raptor – Longmont Area
View Inventory


Vehicle Overview
Consumers in the Longmont Colorado area are extremely excited about the release of the new 2020 Jeep Gladiator, especially since the brand hasn't released a pickup truck in over 25 years. Jeep has been designing high-performance compact pickups since the late 1940's, when they introduced their first one-ton pickup with four-wheel drive. The newest Gladiator model comes with Jeep's iconic removable top and doors, as well as a retractable windshield. It's been shown to be a class leader in terms of towing capacity, and it comes equipped with the same off-roading capability that Jeep enthusiasts have grown to love.
Exterior – 2020 Jeep Gladiator
In terms of exteriors, the 2020 Gladiator definitely takes the cake! The Gladiator is available in ten different paint options. For those who are looking for a more traditional look, the colors include: Black Clear-Coat, Billet Silver Metallic Clear-Coat, Bright White Clear-Coat, Gator Clear-Coat, Granite Crystal Metallic Clear-Coat, Sting-Gray Clear-Coat, and Gobi Clear-Coat. Those searching for more vibrant options may enjoy Punk'n Metallic Clear-Coat, Hydro Blue-Pearl-Coat, or the Firecracker Red Clear-Coat. With so many paint selections available, you're bound to find one that reflects your unique personality. Ford's 2019 Raptor offers eight different color options. This may be a wide variety of colors to choose from, but they still don't add up to the options associated with the 2020 Gladiator.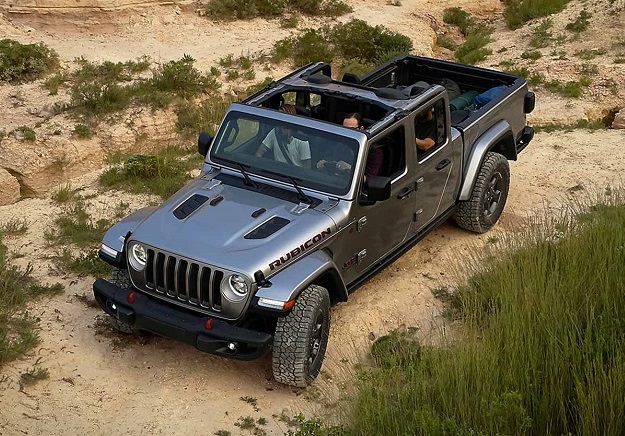 Interior – 2020 Jeep Gladiator near Longmont CO
The top and doors are not the only removable parts of the 2020 Gladiator. Drivers will appreciate the ability to remove the carpet and hose down the interior, draining the excess water through a convenient, built-in drain plug on the floor. The 2020 Gladiator comes with traditional cloth seating and genuine leather and cloth upholstery. The front seats have heating technology for added comfort, and the second-row seating comes with ample leg room. In fact, the 2020 Gladiator is said to be the roomiest model to date. Jeep's infotainment system in this new model is perhaps one of the most sought-after features in the 2020 Gladiator's interior. The standard version comes with a five-inch touch screen and an eight-speaker audio system for high-quality output. There is even a forward facing off-road camera as opposed to just a singular rear-view option for parking and lane departure.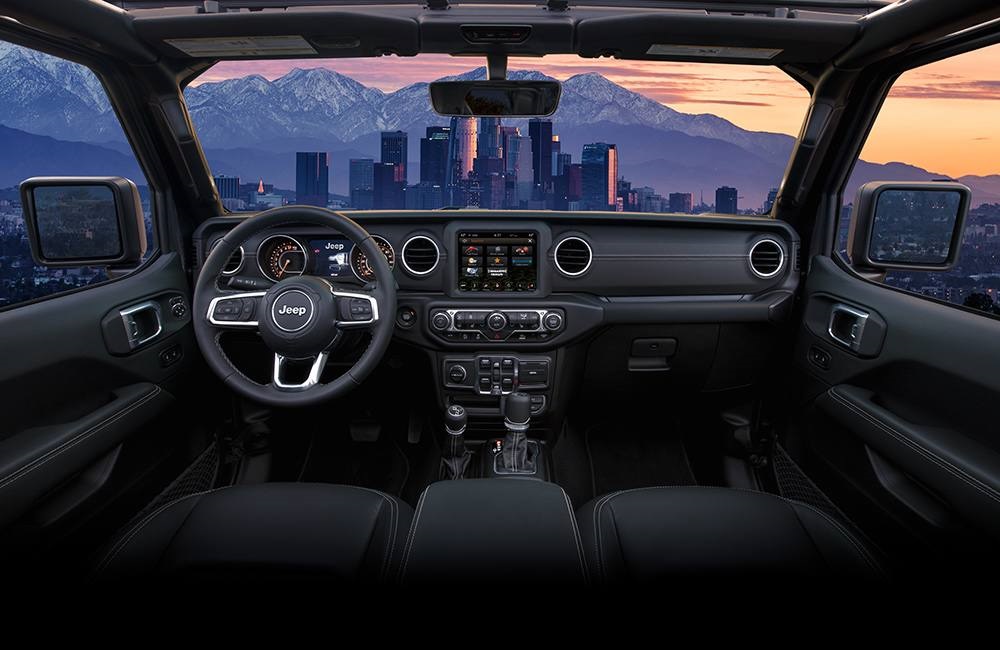 Performance – Jeep Gladiator specs near Longmont
The 2020 Jeep Gladiator comes with a 285-horesepower V6 engine, which is the same as the Wrangler engine that Jeep enthusiasts have grown to love. This means that it is not only fantastic on tough terrain, but it is also ideal for towing and hauling. This vehicle gets 17 mpg in the city, and 22 mpg on the highway. These statistics are quite impressive as most pickups with the same fuel efficiency are only available in two-wheel drive, whereas the Gladiator is equipped with four-wheel drive. This is a critical feature for Longmont Area consumers during the winter months. Ford's 2019 Raptor comes with a 3.5-liter engine with EcoBoost technology. It can generate a considerable amount of horespower at 450. Unfortunately, Ford manufacturers seem to have spent a substantial amount of time focusing on the midsize pickup's interior instead of putting more focus on upgrading the engine to an even more powerful variety. Next year they will be releasing a Raptor fit with the Mustang Shelby GT500 engine, but the development is still in its experimental stages.
Both Jeep and Ford manufacturers have done a great job in executing their newest pickup models, but when comparing the 2020 Jeep Gladiator vs 2019 Ford Raptor, the Gladiator comes out on top. Jeep took the time to implement upgrades in every area of their new Gladiator, as opposed to zoning in on one feature alone. Visit your local Longmont area Jeep dealer today, and see how they can help you test drive the new 2020 Jeep Gladiator.