New Jeep Denver Review – 2020 Jeep Gladiator Mojave for Sale in Boulder,CO l Denver Area
Denver Review – 2020 Jeep Gladiator Mojave
View Inventory

Vehicle Overview
Many SUVs will take you off the beaten path, but only the 2020 Gladiator Mojave can traverse the desert. When you read a 2020 Jeep Gladiator Mojave review, you'll find that Mojave, which is a special edition trim of the 2020 Jeep Gladiator family, has a number of functional elements that make it sturdier, hardier, and more equipped overall to handle some of the toughest conditions in the world. While consumers have come to expect a "trail-rated tough" vehicle when they buy a Jeep, the Mojave is the first to be desert-rated tough as well. Along with its exceptional athleticism, the 2020 Mojave also gets some unique styling elements inside and out to distinguish it from the other Jeep Gladiator trims. As with its peers, the Mojave has many options for a custom finish, too. If you're ready to try out the all-new Jeep Gladiator Mojave, don't hesitate to contact the friendly and professional staff at Pollard Jeep, an elite dealership serving Denver Colorado.
Exterior – 2020 Jeep Gladiator Mojave
On the outside, the 2020 Jeep Gladiator Mojave has a tough-as-nails shell that's designed to withstand even the brutal conditions of the desert. The Mojave's exterior borrows some elements from its Gladiator peers and the 2020 Jeep Wrangler, which is the vehicle that the 2020 Jeep Gladiator is designed after. The Mojave has a seven-slot front grille and Jeep's classic rounded headlights. LED bulbs add to its visibility. This trim level also gets fog lights for optimal visibility when lighting conditions are poor. The Mojave gets red tow hooks in front for style and function. A second set of tow hooks is found in the rear, too. A performance-oriented hood with a dynamic scoop make the Gladiator stand out from the front end. A folding windshield allows you to enjoy fresh air when needed. The Gladiator also gets impressive 17-inch wheels surrounded by 33-inch all-terrain tires. A dark gray color scheme with orange accents gives the Mojave its aesthetic appeal, and it proudly wears the "Desert-Rated" badge.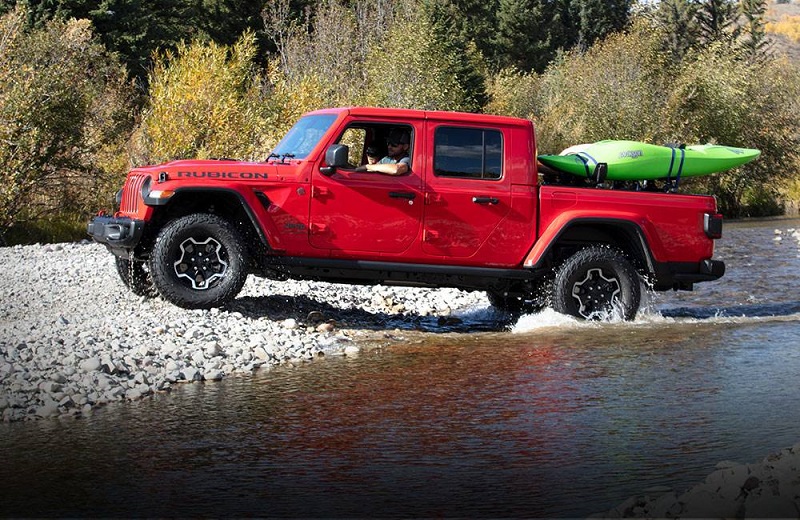 Interior – 2020 Jeep Gladiator Mojave near Denver CO
On the inside, the 2020 Jeep Gladiator Mojave is a work of art. Reading a 2020 Jeep Gladiator Mojave review, you'll learn that the Mojave is equipped with a number of standard safety features, technology, and creature comforts. It also has a variety of unique trim-specific custom accents, including orange contrast stitching, that set it apart from the crowd. The Jeep Gladiator Mojave features an infotainment system that comes with Bluetooth and voice control technology. Metallic trimming along the interior adds a nice contrasting appearance, while orange stitching accents add another element of intrigue. The Mojave is adorned with soft-touch materials as well that make every ride comfortable and enjoyable, no matter how far you're going. Multi-way adjustable seats with lumbar support are another highlight of the Mojave's interior. At Pollard Jeep, a dealership serving Denver Colorado, we also encourage you to ask about available options to enhance the Mojave's interior even more, including premium leather seats and advanced technology features.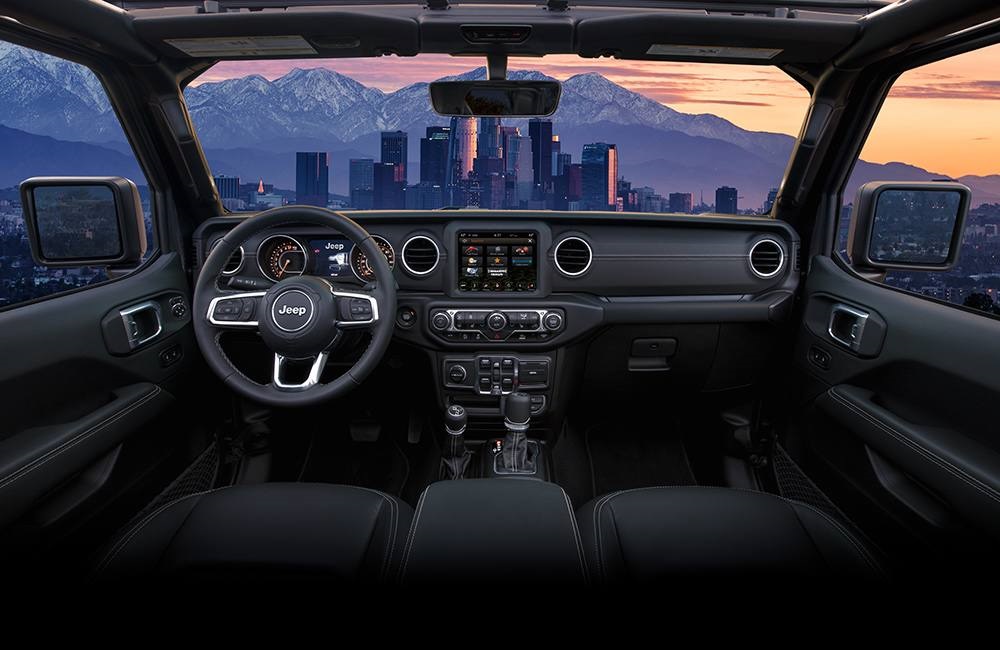 Mechanical – Gladiator Mojave specs near Denver
The 2020 Jeep Gladiator Mojave is powered by the same engine as its peers. This year, all trim levels of the Gladiator have a 3.6L engine with six cylinders. This capable engine generates just under 300 HP and 260 LB-FT of torque. It is a gasoline-powered engine that provides all trim levels of the 2020 Jeep Gladiator with a maximum towing capacity of 4,500 pounds. A Class II bumper hitch, trailer hitch, and anti-sway trailer control are standard features that help the Gladiator Mojave safely tow heavier loads.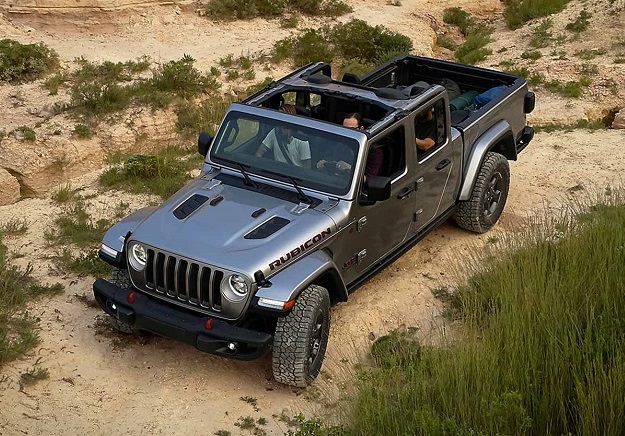 Powertrain – Jeep Gladiator Mojave specs near Denver CO
While the Jeep Gladiator has one engine across the board, you have your choice of powertrains. The standard transmission on the 2020 Gladiator is a six-speed manual, but you can choose an eight-speed automatic instead. You also have the option of getting four-wheel drive with low-ranging gearing with the Mojave. This trim level also gets a unique feature called "Off-Road Plus." This feature, which is activated by pressing a button, gives the Mojave special capabilities for driving at high speeds through the sand. This impressive feature automatically adjusts the transmission, throttle, shift points, and optimizes traction control to help you get through the most harrowing and challenging conditions with ease.
Safety – 2020 Jeep Gladiator Mojave dealer
When you read a 2020 Jeep Gladiator Mojave review, you'll discover that despite its hardy and indestructible appearance, the 2020 Mojave is also a very safe vehicle. As with its peers, safety starts on the outside with the Mojave with its rigid body construction. In total, the Gladiator has over 80 safety features that are either standard or available. Along with advanced air bags and seat belts, your Jeep can come equipped with blind-spot monitoring, adaptive cruise control with full stop control, forward collision warning with emergency braking, and rear cross-path detection. A backup camera is another safety amenity that you'll find on this year's Jeep Gladiator.
While you can read all about what the 2020 Mojave trim has to offer by reading a 2020 Jeep Gladiator Mojave review, the only way to know more about this alluring Jeep SUV is to test one out for yourself. Fortunately, you can do that at Pollard Jeep, a premium dealership serving Denver Colorado. If you're curious to learn more about the 2020 Mojave or you're ready to take one for a test drive, don't hesitate to get in touch. You can easily arrange a test drive by visiting our website or calling us today.
This article is for general information only. Please contact our dealership for complete details.