Explore the 2020 Jeep Gladiator near Denver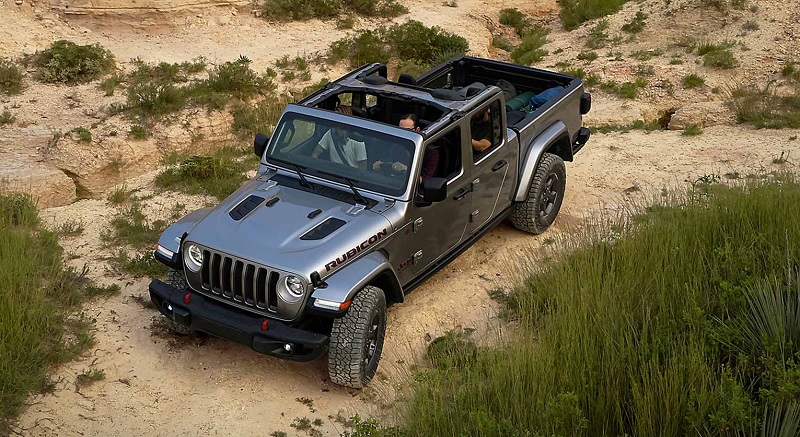 One of the primary perks of owning a Jeep vehicle is the ability to configure your top and doors. Jeep's configurations are near endless, as any Jeep owner will tell you. The Gladiator is the first pickup truck in the world that comes with the near transformer type capability of shedding its top and doors to reveal a more inspiring off-road experience. You'll feel the wind and fresh air all around you, even in the areas where those confining doors used to be.
How's it work? The 2020 Jeep Gladiator near Denver features four different types of top that you can choose from Pollard Jeep. First, there's the No-top configuration. You'll likely go out this way more than once! However, when you do have a top, you get to choose which one you want. Choose from:
Zipperless Sunrider Soft Top
Body-Color HardTop
Black Freedom Top HardTop
Your doors are also removable for an unmistakable feel of freedom as you confront the challenges of your trails. Imagine spending many Saturdays in your Gladiator, heading out to the toughest trails in America for a little doorless off-roading. It's a feeling that really opens up the possibilities of owning a Gladiator. It's serving Denver Longmont Boulder off-roaders with pure bliss.
The truck itself is the first trail rated pickup truck in the world. Its Mojave edition brings in the first desert rated pickup truck (not an easy distinction to earn for any class). It's a wild ride every time you hop in the Gladiator, but with 7,650 pounds of towing capacity with its gas engine (a class-leading honor for its gas engine), there's nothing but capability and possibility here (okay, there's the stunning good looks, high tech interior, and pure thrill of its 4X4 systems, too). We highly recommend the 2020 Jeep Gladiator to anyone who loves to off-road! You can get more info today from Pollard Jeep!