New Jeep Schedule Test Drive – 2020 Jeep Gladiator near Golden CO for Sale in Boulder,CO l Denver Area
Schedule Test Drive – 2020 Jeep Gladiator near Golden CO
View Inventory

Vehicle Overview
You may think you know midsize trucks, but you haven't experienced what these pickups can do until you've tried out the 2020 Jeep Gladiator near Golden CO. With the characteristics of a Wrangler and the capability of a truck, this open air ride is a cargo hauler with an adventurous Jeep heart.
Exterior – 2020 Jeep Gladiator
There's a similarity between the Gladiator and the Wrangler serving Golden shoppers. However, when you test drive at Pollard Jeep, you'll see that the Gladiator has a character all its own. The longer wheelbase and wider rear wheels are made to handle a strong bed. The 1970s throwback style makes it feel like an icon. A wide multi-slot grille marks it as a Jeep. Built high and tight, the Gladiator has the ground clearance drivers need when taking on a trail or bumping across a field. Water-proofing allows this truck to ford up to 30 inches. High wheel arches, a high air intake and tight, high bumpers keep important parts out of harm's way. Off-roading armor can be added for extra protection. To build the Gladiator, Jeep designers worked diligently to lower the truck's overall weight. High strength aluminum is used for the hood, all four doors, and the fenders. The tailgate, which is also made of aluminum, has three positions. You can lighten the load even more by taking off the soft top or the hardtop. This convertible truck is truly distinctive, leaving its class behind. The 2020 Jeep Gladiator near Golden CO is sure to please the Jeep enthusiast and pickup lover.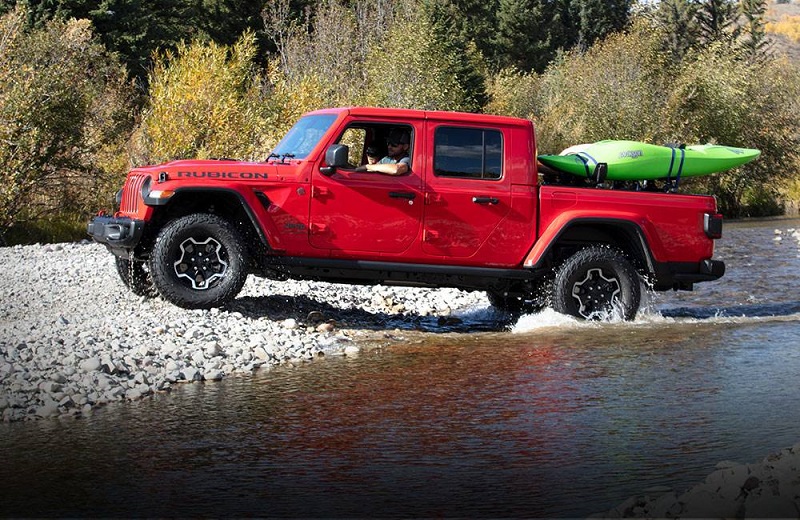 Interior – 2020 Jeep Gladiator near Golden CO
A two-row cabin provides space for five. Jeep has made it personal with a variety of color schemes including heritage tan, saddle brown, and black with red accents. The Sport and Sport S are simple, but high tech offerings. The Overland takes the quality up a notch and adds more amenities. Rubicons rule the off-road while still providing a cushy cabin with important features. For storage, the rear seat folds flat. Jeep puts LED lights on the quarter trim panels to help you see your luggage or gear. Cabins come with illuminated cup holders, heated seats, and an available heated steering wheel. Like any good truck near Golden CO, there's a sliding back window. Jeep adds a removable Bluetooth speaker that can work outside the truck. 2020 Jeep Gladiator owners can get a Forward Facing TrailCam. This device is mounted to the front grille and can record your off-road adventures. It also lets you see rocks, brush or other obstacles that may be obscured from view otherwise. As you drive, you can follow dynamic tire path gridlines. The rearview camera can have a 4x zoom to make it possible to hook up a trailer without a scratch.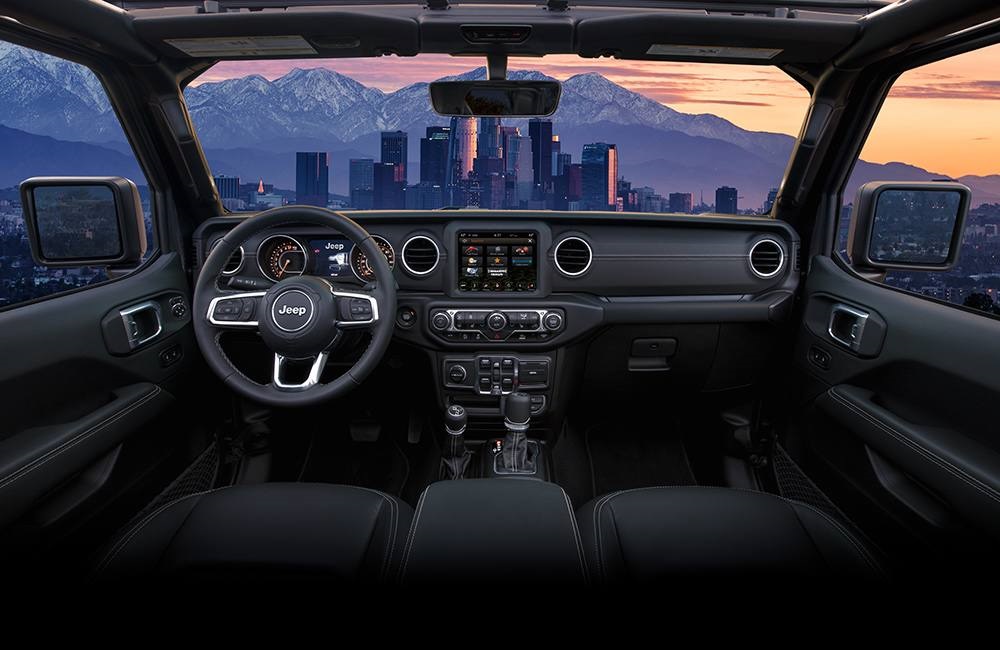 Mechanical – Gladiator specs near Golden
Since the Wrangler's engine has been such a winner, engineers tested it for the Gladiator and found that it could do some serious work. The powertrain cranks out 285 horsepower, more than the Ford Ranger or Toyota Tacoma, and 260 lb-ft of torque. Knowing Jeep enthusiasts, the automaker has given it a six-speed manual transmission. Recognizing modern taste, they also offer an excellent eight-speed automatic transmission. More gears equals better shifting. You can count on full-time torque management to improve the Jeep's response to difficult tows or tough inclines. Stepping ahead of some light duty trucks, the Gladiator can handle some 7,650 pounds of trailer weight. The bed can carry up to 1,500 pounds of payload. Trailer sway control helps the driver manage a load. Gladiator shoppers may want the available integrated brake controller. Serving Golden shoppers, two four-wheel drive systems are standard. You won't pay more for the capability you expect from a Jeep truck. These award-winning systems have been fully tested and shown to handle road and off-road challenges.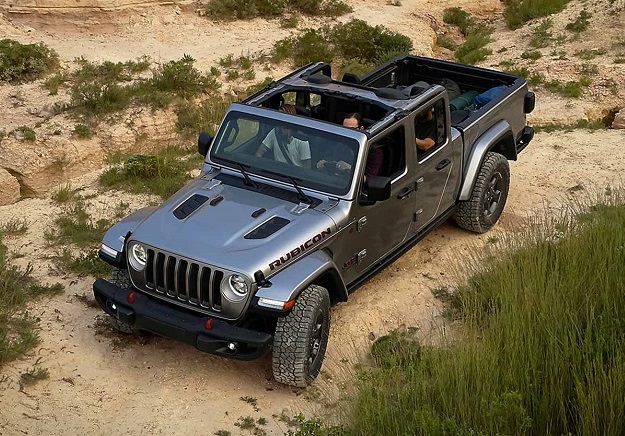 Powertrain – Jeep Gladiator specs near Golden CO
The CommandTrac system has a terrain management tool that allows drivers to instruct the Gladiator to adjust for sand, snow or mud. It supplies four-wheel drive when it senses the need or when the driver requests it. The RockTrac system has crawl control and a rock terrain setting. The special four-wheel drive includes a 4:1 transfer case. Jeep equips the truck with heavy duty components including tough Dana 44 axles, extra-thick tubes, and extra-strong forgings. Offering 11.1 inches of ground clearance, the mighty Gladiator Rubicon is a force to be reckoned with. Jeep has supplied an electronic-disconnect front sway bar, the only one in its class. Locking front and rear differentials add even more strength and flexibility.
Safety – 2020 Jeep Gladiator dealer
Drivers near Golden CO will be surprised to learn that this truck has all of the same safety features that are offered on today's SUVs. You can enjoy help from a forward collision warning or simply turn over acceleration/deceleration duties to full-stop adaptive cruise control. Since we can't see every danger, the blind spot monitor will watch for you. A rear cross traffic alert can do the same when you have the Gladiator in reverse. To keep the Gladiator from side swiping a neighboring car, Jeep offers a lane warning that can assist with straightening the truck's trajectory.