New Jeep Trim Levels on the 2020 Jeep Gladiator – Denver Area Dealer for Sale in Boulder,CO l Denver Area
Trim Levels on the 2020 Jeep Gladiator – Denver Area Dealer
View Inventory

Vehicle Overview
The famous Rubicon trim of Gladiator won the Extreme Capability Category at the NWAPA's 25th annual Mudfest Competition, so that should give you a beginning idea of just what the Gladiator is capable of when it's the right trim and equipment. Your Gladiator lives up to its name in thousands of little ways, serving Denver Longmont Boulder with a finely tuned off-road machine that's also capable of towing and hauling like a pickup truck. Pollard Jeep invites you to learn more about the 2020 Jeep Gladiator trim levels and make a win-win decision when you finally come down here to test drive the 2020 Jeep Gladiator near Denver. It's an experience unlike any other, whether you're on the road or on the trails.
Sport Trim – 2020 Jeep Gladiator
The basic Sport is still draped in the classic Jeep spirit. You get 17-inch steel wheels that sit perfectly on the Gladiator's unique body. It's fitted with a 5-inch touchscreen display, 8-speaker audio system, and a rearview camera that helps increase visibility and helps in tight parking situations and other reverse situations. You'll also have the benefit of an already impressive 4,500 pound towing capacity, a fine number for a base model. Your 2020 Jeep Gladiator near Denver is a vehicle of many faces, but the Sport is an excellent value for the features you get. And of course, you get that handy fold-down windshield that lets you go full on outdoors at the drop of a hat.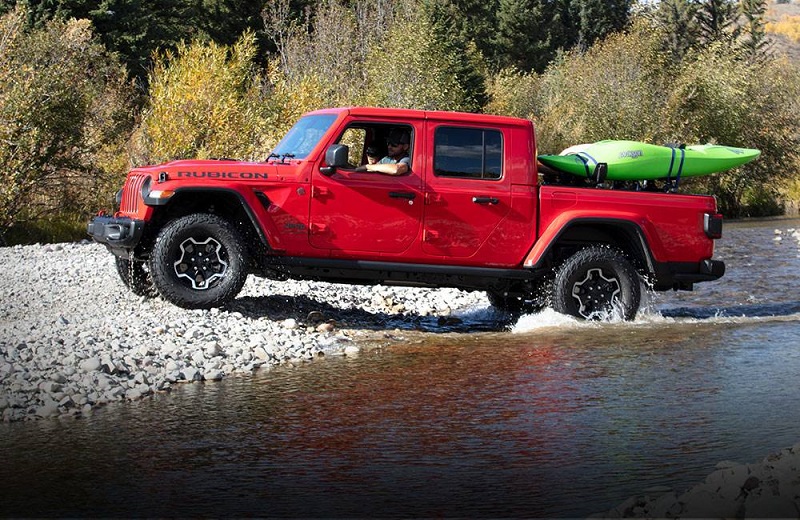 Sport S Trim – 2020 Jeep Gladiator near Denver CO
The Sport S gets a few nice exterior upgrades, such as alloy wheels and power door and tailgate locks. It also features Best-in-Class available Towing and Payload, with maximum towing of 7,650 pounds and a maximum payload of up to 1,700 pounds. If you want muscle and a bit more refinement, the Sport S is an excellent choice, serving Denver Longmont Boulder customers with a bit more elegant Gladiator on the interior and a sportier one on the outside.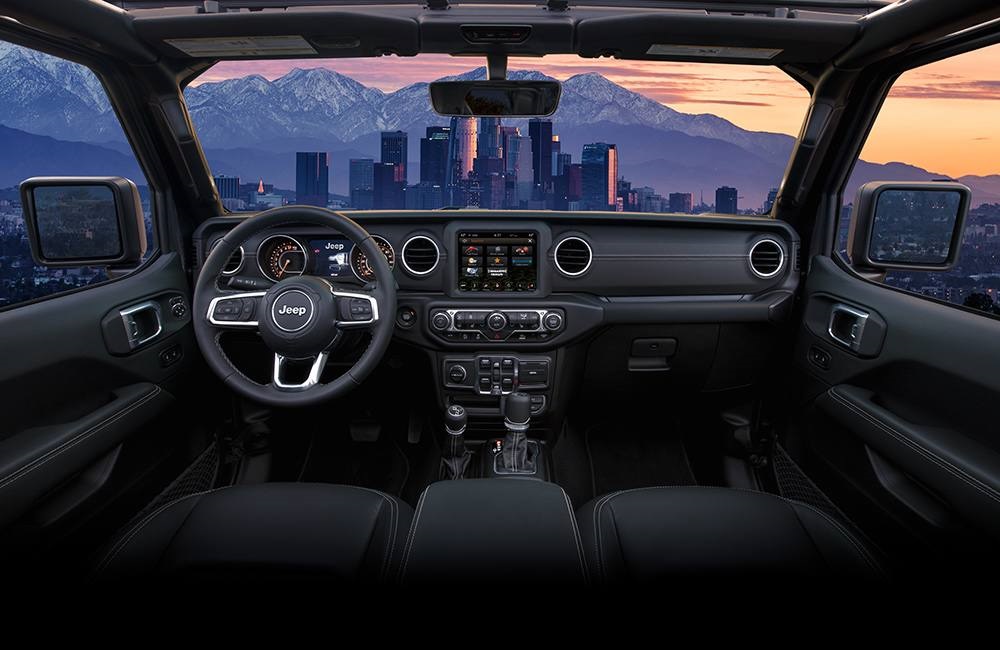 Overland Trim – Gladiator specs near Denver
The Overland is an elegant picture: 18-inch alloy wheels, tinted rear and side windows, and wheel arches that match body color. It's a sportier day for sure, and then you open up a host of available features on this one: 7-inch infotainment system, LED ambient footwell lighting, and auto headlights for more convenient driving. Pollard Jeep views the Overland as not quite the Rubicon, but it's a fine option to get the more upscale experience some Jeep customers have come to expect of their off-road vehicles. You can still off-road in a cabin fit for a king. The Overland opens up the option for Available Adaptive Cruise Control and Forward Collision Warning with Active Braking, and we highly recommend you get that for your Overland.
Rubicon Trim – Jeep Gladiator specs near Denver CO
The Rubicon is one of the Gladiator's nicest trims. You get better crawling and climbing capacity with a lower crawl ratio, 33-inch all-terrain tires, front stabilizer bar, locking front and rear differentials, front stabilizer bar, and Fox shock absorbers, just for starters. You'll find your Rubicon is also given a generous dose of modernity with larger touchscreen, leather seating with ruby red Rubicon accents, and a host of other modern amenities that will make you thankful you chose the Rubicon trim out of all the other trim levels. While there's plenty of other things to consider when selecting a trim, there's no way you can choose a Rubicon and regret it. It's an especially nice trim of Gladiator.
Contact Us Today – 2020 Jeep Gladiator dealer
The Jeep spirit continues to inspire us here at Pollard, and we hope that you've been inspired by the 2020 Gladiator as well. It's not quite a pickup truck, not quite a sedan, and not quite an SUV, but it's all three of those things in the most capable of ways. You're going to love the amazing color options, safety features, and all-around off-road genius of the Gladiator, a vehicle that more than lives up to its name and fights through any trail that dares to welcome its wheels to the mud. If you are impressed by the Gladiator, or if you're a long-time Gladiator buyer and know you want this one, just give us a call when you are able to get down here and see these trims up close. We're certain that you're going to flip for the new Gladiator and take it home as your own. There are more trims of Gladiator than we've covered here, so contact the dealership for all trim levels, vehicle information. Thanks for considering Pollard Jeep as your dealership. We would be honored to assist you in 2020.